A program to take over human communications?
The Drones of Facebook (and the NSA)
"Connectivity," Facebook CEO Mark Zuckerberg said in a CNN interview last year, "is a human right."
If it surprises you that one of the kings of the corporate Internet would repeat a slogan used by Internet activists to mobilize against companies like his, examine the context. Zuckerberg made his remark to support and explain a new set of Facebook strategies that will, if successful, put the world's Internet connectivity under his company's control.
It's called internet.org which is not only a real website but a consortium of companies and government agencies Facebook is leading. The very name -- "internet.org" -- also provides a glimpse of Facebook's intentions.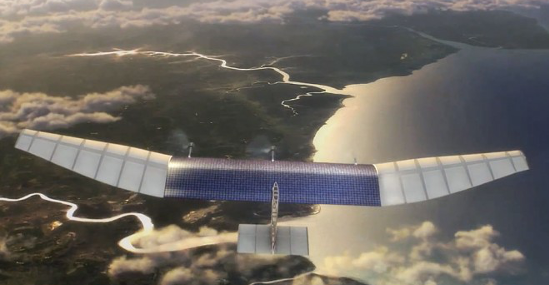 Facebook conception of a drone connecting people

Using a combination of drones, satellites and other technologies, Facebook seeks to bring connectivity to the entire world. The picture is remarkable: Facebook satellites and drones with six month life cycles will bounce every connection signals (like Wify) to people in every corner of the earth. Every human being will now have access to the Internet.
On its face, it's a wonderful idea until you realize that this would put all the world's connectivity in the hands of one company and a coalition of partners it's brought on to realize the project. Those partners, by the way, include -- are you ready? -- the National Security Agency of the United States.
Zuckerberg reminds us that this isn't imminent; it's a project for what he calls "the far-off future". But he doesn't explain how far off "far-off" is. Connectivity projects are a process and portions of the world would be progressively "hooked up". In fact, his company has already invested $1 billion in the project and, he says, will continuously invest a lot more.
The people of the world are, Zuckerberg says, "...going to use it to decide what kind of government they want, get access to healthcare for the first time ever, connect with family hundreds of miles away that they haven't seen in decades."
The Facebook announcements followed by a year an announcement by Google that it's researching how to use huge balloons to bring the Internet to the world or at least to remote locations in it. Google calls it "Project Loon".
The obscene irony in using drone technology (used, among many other things, to kill thousands of people a year) to bring the human race together is offensive, but the very real threat posed by putting most people's communications in the hands of one company is deeply disturbing. To grasp that threat and the reason behind these initiatives, one must understand that this is a corporate response to a very real problem.
Loading
This is the video tape of Davis in Lahore police custody


___________________________
___________________________
Live Stream of the Occupation of Wall Street! The Revolution will be filmed after all! (Courtesy of Globalrevolution)
________________________
Fightin' Cock Flyer
Listen as Chuck, John, Dave and Linn Join Prairie Radical Mike Caddell of the Fightin' Cock Flyer on Radio Free Kansas
Here's the link to prairie radio radical Mike Caddell's Radio Free Kansas program, where you can hear the podcast of the whole group interview that was conducted on Saturday, May 8.
Also, listen to Dave Lindorff on Chris Cook's Gorilla Radio on CFEV Radio in Victoria, Canada.
Donate $50 to ThisCantBeHappening.net and get a free signed copy, postage paid, of Dave's classic tome The Case for Impeachment (St. Martin's Press, 2006). Just click on the cover image to go to the Paypal payment page, make your payment, and send a note to Dave calling his attention to the payment, and giving your mail address and the name you want the inscription addressed to.
---------------
Have a comment to make?
You can write us at ThisCantBeHappeningMail@yahoo.com
We may not answer you, but we'll probably read it.