Hackers do damage but our government and corporations are the real problem.
Internet Hackers and the Real Threat They Expose
While certainly not over-shadowing the Obama Administration's military threats against Syria, the cyber attack that brought the mighty New York Times to its knees last week is a major development and should get us all thinking.
The attack, a Dedicated Denial of Service attack, took the Times' website off-line for a day and was one of a series of attacks on major information institutions by a hacker group called The Syrian Electronic Army. The SEA appears to be a network of hackers (some of them outside Syria) who are loyal to Syrian President Bashar al-Assad and apparently ready to attack anyone who's not. Because this was, after all, the website of one of the world's most powerful and prominent newspapers, the sudden exposure of its vulnerability was daunting.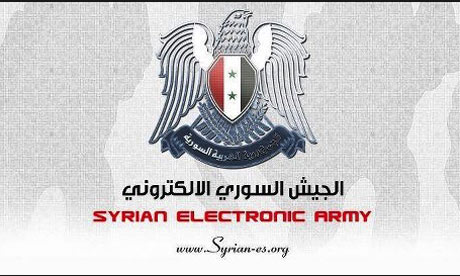 The SEA logo -- Hackers of the Moment!
The vulnerability of websites was further demonstrated by the five day attack two weeks ago on the website of Sahara Reporters, a site featuring news on Africa that is always provoking the ire of repressive governments and corrupt politicians. This attack was particularly nasty and protracted. It took technologist Ross Glover of May First/People Link, of which Sahara Reporters is a member, nearly five days to combat and then finally control the attack so that the website could return to normal functioning.
There were nearly ten major cyber attacks in August against very prominent targets and such coincidence begs for a lesson. It's not hard to find. The Internet is vulnerable to attack. Our corporations and governments concentrate on defending against attacks on financial and military targets on-line, conducting surveillance on the human race and launching their own cyber-attacks against "enemies" abroad. All the while they do literally nothing to protect against threats on information and organizing centers, some of the resources people need the most. With all the money put into on-line surveillance, there's been very little put into developing ways to block DDOS attacks or secure the real Internet. Put simply, you and your communications are not a priority.
Most of these attacks appear to be the work of the SEA which, while insisting it's not a government project, makes no bones about its allegiance to the Assad regime. The SEA's strategy, as it were, is to disrupt news websites and social media that carry criticism of the regime, to "spread the truth" they say. But its targets, like the Times, indicate that a website's prominence and authority are also important criteria. There are lots of publications that are much more critical of Assad than the Times. And the character of their attacks -- providing almost no informative content -- mean they're more interested in disrupting information than spreading it.
Loading
This is the video tape of Davis in Lahore police custody


___________________________
___________________________
Live Stream of the Occupation of Wall Street! The Revolution will be filmed after all! (Courtesy of Globalrevolution)
________________________
Fightin' Cock Flyer
Listen as Chuck, John, Dave and Linn Join Prairie Radical Mike Caddell of the Fightin' Cock Flyer on Radio Free Kansas
Here's the link to prairie radio radical Mike Caddell's Radio Free Kansas program, where you can hear the podcast of the whole group interview that was conducted on Saturday, May 8.
Also, listen to Dave Lindorff on Chris Cook's Gorilla Radio on CFEV Radio in Victoria, Canada.
Donate $50 to ThisCantBeHappening.net and get a free signed copy, postage paid, of Dave's classic tome The Case for Impeachment (St. Martin's Press, 2006). Just click on the cover image to go to the Paypal payment page, make your payment, and send a note to Dave calling his attention to the payment, and giving your mail address and the name you want the inscription addressed to.
---------------
Have a comment to make?
You can write us at ThisCantBeHappeningMail@yahoo.com
We may not answer you, but we'll probably read it.