Park Rangers 'Punked'
Government Shuts Down But Perversions Persist
On the first day of the federal government shut-down, as hundreds of tourists were turned away from the shuttered Liberty Bell and other fabled sites within the Independence National Historical Park in downtown Philadelphia, Richard Dyost stood near the building housing the Bell and received a big laugh.
Dyost, wearing a tall hat featuring marijuana leaves, was among a group that included site-visit-spurned tourists, who watched federal park rangers and Philadelphia police get 'punked' like the people once targeted for pranks on the defunct cable television program named "Punk'd." These particular law enforcers were pranked by protestors opposed to the federal government's prohibition of pot.
Pro-pot protestors had announced a smoke-out at the Liberty Bell for the afternoon of Tuesday, October 1.
Park rangers (working despite the government shut-down), Philadelphia police, as well as representation from the U.S. Attorneys Office in Philadelphia, assembled to arrest protestors attempting to smoke the illegal substance – an enforcement spectacle that has occurred with regularity over the past few months during monthly pro-pot demonstrations outside the Liberty Bell.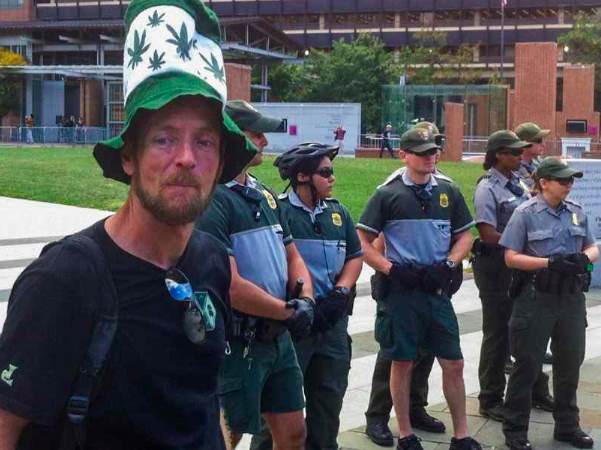 Weed protester Richard Dyost pulled a fast one on Park police at a protest on Philadelphia's Independence Mall
The demonstrations take place near a stone marker engraved with the words of the First Amendment – that U.S. Constitutional right that includes protections for people to protest against the Government for "redress of grievances."
As the 4:20pm time of the announced smoke-out approached, the rangers put on gloves preparing to arrest protestors. But at 4:20 none of the protestors smoked any marijuana. Instead, many protestors just walked away without 'firing up' while uttering comments that ridiculed the assembled law enforcers for their readiness to crack down on protestors instead of keeping the budget impasse-shuttered historic sites open.
Dyost, while chuckling at law enforcers getting pranked, scorned the whole idea that the Interior Department and the Justice Department would be ready to expend scarce federal funds to arrest people for consuming a substance that 18-million Americans use regularly (according to stats from the White House Office of National Drug Control Policy) while refusing to staff a highly popular national park historic site.
"This is not a proper use of federal resources," Dyost said. "You can't see the Liberty Bell but there is money being spent to make sure we can't smoke pot."
Donne Radford, who lives in Southeast Asia, also questioned the propriety of outlawing marijuana. Radford was born in Denver, Colorado, one of two states where voters last year approved complete legalization of marijuana after years of sanctioned use of marijuana for medical purposes.
Loading
This is the video tape of Davis in Lahore police custody


___________________________
___________________________
Live Stream of the Occupation of Wall Street! The Revolution will be filmed after all! (Courtesy of Globalrevolution)
________________________
Fightin' Cock Flyer
Listen as Chuck, John, Dave and Linn Join Prairie Radical Mike Caddell of the Fightin' Cock Flyer on Radio Free Kansas
Here's the link to prairie radio radical Mike Caddell's Radio Free Kansas program, where you can hear the podcast of the whole group interview that was conducted on Saturday, May 8.
Also, listen to Dave Lindorff on Chris Cook's Gorilla Radio on CFEV Radio in Victoria, Canada.
Donate $50 to ThisCantBeHappening.net and get a free signed copy, postage paid, of Dave's classic tome The Case for Impeachment (St. Martin's Press, 2006). Just click on the cover image to go to the Paypal payment page, make your payment, and send a note to Dave calling his attention to the payment, and giving your mail address and the name you want the inscription addressed to.
---------------
Have a comment to make?
You can write us at ThisCantBeHappeningMail@yahoo.com
We may not answer you, but we'll probably read it.