Twittered Out
Washington Does Not Like Snarky
To: Jofi Joseph, Washington DC
Dear Mr Joseph:
I read of your firing as a low-level national security adviser in the White House thanks to your "snarky" tweeting about various Obama administration officials above you in the pecking order.
I understand you are contrite and a bit embarrassed and said that your tweeting escapade as @NatSecWonk started as innocent fun and turned into something else. Even the New York Times reporters who told your story on their front page today seemed hard pressed not to treat it comically. The headline was: "White House Official's Career Twitters Out." Twittering out is hardly a dignified downfall. In the annals of schadenfreude over the downfall of promising national office holders via the internet, at least you did not tweet anyone images of your penis.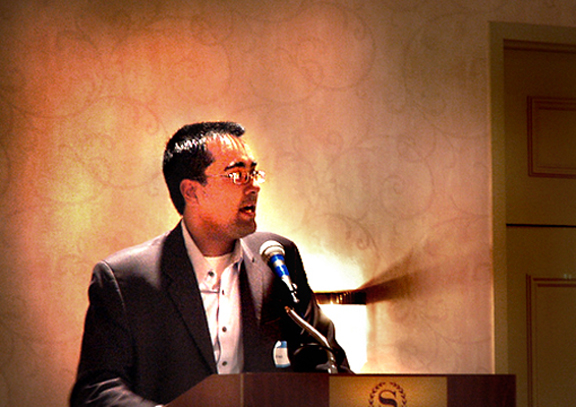 Jofi Joseph
From here on out I'm going to treat your situation seriously, since I feel your predicament is instructive. I know you and your wife certainly see it as serious, since she remains on the Washington national-security-state power merry-go-round.
On the Rachel Maddow Show Wednesday night, yours was not the only Twitter-based story. Maddow gave much more time to, and was quite laudatory about, a tweeter named Tom Matzzie, a man who once worked for MoveOn.org.
Mattzie made blow-by-blow tweets from a Washington to New York Acela train of a loud, off-the-record cell phone interview being given in the seat directly behind him. The interviewee, Michael Hayden, as you must know, was the NSA director under President Clinton and CIA director under Presidents Bush and Obama; he now works for the Chertoff Group, which according to its website, "provides business and government leaders with the same kind of high-level, strategic thinking and diligent execution that have kept the American homeland and its people safe since 9/11."
When Hayden was informed via his cell phone that an ordinary schmuck had just done a surveillance job on him from the seat ahead, the master spy introduced himself and graciously posed with Matzzie for a photograph. As any good spy knows, it's important to always remain cool and make the best of things when caught with your pants down. (The photo is at the end of this missive.)
In your case, you assumed the role of an anonymous insider making snide comments about Hillary Clinton on Benghazi, John Kerry, Susan Rice and others. This is how you described yourself: "Unapologetically says what everyone else only thinks. A keen observer of the foreign policy and national security scene. I'm abrasive and bring the snark." Snark comes from Lewis Carroll's The Hunting of the Snark, and the word is defined as "an imaginary animal (used to refer to someone or something that is difficult to track down)."
Here's your August 9 tweet concerning UN Ambassador Samantha Power -- or "Sam" as you refer to her:
Loading
This is the video tape of Davis in Lahore police custody


___________________________
___________________________
Live Stream of the Occupation of Wall Street! The Revolution will be filmed after all! (Courtesy of Globalrevolution)
________________________
Fightin' Cock Flyer
Listen as Chuck, John, Dave and Linn Join Prairie Radical Mike Caddell of the Fightin' Cock Flyer on Radio Free Kansas
Here's the link to prairie radio radical Mike Caddell's Radio Free Kansas program, where you can hear the podcast of the whole group interview that was conducted on Saturday, May 8.
Also, listen to Dave Lindorff on Chris Cook's Gorilla Radio on CFEV Radio in Victoria, Canada.
Donate $50 to ThisCantBeHappening.net and get a free signed copy, postage paid, of Dave's classic tome The Case for Impeachment (St. Martin's Press, 2006). Just click on the cover image to go to the Paypal payment page, make your payment, and send a note to Dave calling his attention to the payment, and giving your mail address and the name you want the inscription addressed to.
---------------
Have a comment to make?
You can write us at ThisCantBeHappeningMail@yahoo.com
We may not answer you, but we'll probably read it.