What's more important: Security or freedom?
The Big Question the National Security State isn't Asking
So National Security Agency Director Keith B. Alexander, who, along with his boss, Director of National Intelligence James R. Clapper Jr., thinks that "if you can collect it, you should collect it," now is asking whether it might not be such a good idea in the case of spying on the citizens of US allies like Germany, France, Spain et al.
"What's more important," the chief spook reportedly asked, following revelations by NSA whistleblower Edward Snowden that the NSA has been spying on the electronic communications and phone conversations of millions of people in European other countries around the world. "Partnering with countries may be more important than collecting on them."
This unusual moment of reflection came before the later disclosure that the Alexander's super spying outfit was also tapping the cell phones of the leaders of America's major allies, including France and Germany, not to mention Brazil.
Caught with his electronic pants down, Alexander, who is also a four-star active-duty general, is suddenly acknowledging that spying might have a downside.
In this case, the downside he is acknowledging is a diplomatic one: if you spy on the people -- and the leaders -- of a friendly state, violating a basic trust that had been taken for granted, you risk losing that trust and losing a long-time friend. Alliances can founder over such abuses of trust.
What Alexander and his truth-challenged boss Clapper are not considering, though, is whether there is also a bigger question: Isn't maintaining democratic freedoms and the trust of the American people more important than collecting every possible datum of information about them, and monitoring their every move and every communication?"
The answer, of course, is obvious, which is why Alexander and Clapper are not asking it.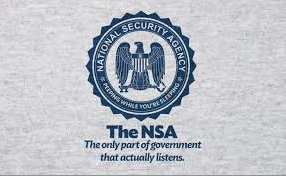 Spoof NSA T-shirt: Way back in 2011, the agency threatened to sue the company, LibertyManiacs.com, on the basis of an obsure federal law outlawing the "mutilation or alteration of government seals," in order to prevent sale of the shirt (click on image to check out the company).
People in Europe are growing increasingly incensed that the US is "hoovering up" their communications, storing them, and picking through them with mega computers that hunt for key words. But people in the US are growing increasingly angry that the NSA is doing the same thing here at home.
And just as this outrageous international electronic eavesdropping is destroying America's image abroad and threatening long-held alliances, it is destroying American democracy, and public faith in the Bill of Rights, right here at home.
Loading
This is the video tape of Davis in Lahore police custody


___________________________
___________________________
Live Stream of the Occupation of Wall Street! The Revolution will be filmed after all! (Courtesy of Globalrevolution)
________________________
Fightin' Cock Flyer
Listen as Chuck, John, Dave and Linn Join Prairie Radical Mike Caddell of the Fightin' Cock Flyer on Radio Free Kansas
Here's the link to prairie radio radical Mike Caddell's Radio Free Kansas program, where you can hear the podcast of the whole group interview that was conducted on Saturday, May 8.
Also, listen to Dave Lindorff on Chris Cook's Gorilla Radio on CFEV Radio in Victoria, Canada.
Donate $50 to ThisCantBeHappening.net and get a free signed copy, postage paid, of Dave's classic tome The Case for Impeachment (St. Martin's Press, 2006). Just click on the cover image to go to the Paypal payment page, make your payment, and send a note to Dave calling his attention to the payment, and giving your mail address and the name you want the inscription addressed to.
---------------
Have a comment to make?
You can write us at ThisCantBeHappeningMail@yahoo.com
We may not answer you, but we'll probably read it.