Keeping it unreal in Dallas
JFK 50th Anniversary: The Eyes of Texas, Pt. I
"There's a mixed feeling about this — we're commemorating a murder." Gold remarked. "It's both interesting and gauche. But that's what makes America great."
Speaking of gauche, the first thing I noticed as I looked around Dealey Plaza was road construction on Elm Street and the overwhelming stench of fresh asphalt. But this wasn't just any run-of-the-mill fixer-up street project. The reason for the frantic last minute re-paving was to erase the "X" which has for several decades marked the spot where Kennedy was fatally wounded.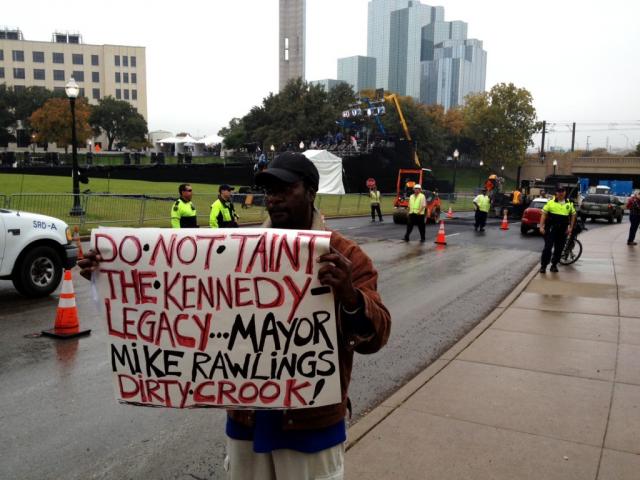 What's that smell? Asphalt or B.S.? Benny Jeffery protests Dallas mayor Mike Rawlings' decision to pave over the "X" which marks the spot of President Kennedy's death.

"We're heading into nut country today."
-– President Kennedy to his wife Jackie on the morning of November 22, 1963

The city of Dallas' inept – and often infuriating – management of the JFK 50th anniversary has been a hornet's nest of controversy locally for almost two years now. The Dallas Observer's Jim Schutze provides the most entertaining coverage of this three-ring circus, certainly. On an almost daily basis, Schutze holds Mayor Mike Rawlings' feet to the fire and roasts city officials to a crisp with each new mind-bogglingly boneheaded decision they make.
Schutze -- often a lone voice in the wilderness of Dallas media -- was the only reporter to cover a federal civil rights lawsuit earlier this year exposing emails and other communications proving the Sixth Floor Museum at Dealey Plaza was directly involved in repeatedly arresting and jailing noted JFK conspiracy author Robert Groden. Not once, not twice, but 81 times. A federal judge agreed the ongoing police harassment was a clear violation of Groden's First Amendment rights. Obviously somebody in power really wanted Groden to shut the hell up.
The city, working hand-in-hand with Dallas' elite old guard (most of whom are rabid Republicans, incidentally) and the Sixth Floor Museum, has done everything in its power to control the spin of how the 50th anniversary would be portrayed to the public. If a few dissenting voices got silenced, or some civil rights were trampled along the way, the city reasoned, it was all for a good cause. The official Warren Commission conclusion, and the reputation of Dallas, Texas, must be protected at any cost.
Loading
This is the video tape of Davis in Lahore police custody


___________________________
___________________________
Live Stream of the Occupation of Wall Street! The Revolution will be filmed after all! (Courtesy of Globalrevolution)
________________________
Fightin' Cock Flyer
Listen as Chuck, John, Dave and Linn Join Prairie Radical Mike Caddell of the Fightin' Cock Flyer on Radio Free Kansas
Here's the link to prairie radio radical Mike Caddell's Radio Free Kansas program, where you can hear the podcast of the whole group interview that was conducted on Saturday, May 8.
Also, listen to Dave Lindorff on Chris Cook's Gorilla Radio on CFEV Radio in Victoria, Canada.
Donate $50 to ThisCantBeHappening.net and get a free signed copy, postage paid, of Dave's classic tome The Case for Impeachment (St. Martin's Press, 2006). Just click on the cover image to go to the Paypal payment page, make your payment, and send a note to Dave calling his attention to the payment, and giving your mail address and the name you want the inscription addressed to.
---------------
Have a comment to make?
You can write us at ThisCantBeHappeningMail@yahoo.com
We may not answer you, but we'll probably read it.