Keeping it unreal in Dallas
JFK 50th Anniversary: The Eyes of Texas, Pt. I
Friday was the first time the city of Dallas officially observed the anniversary. Dealey Plaza – a public park funded by taxpayer dollars – was sealed off behind barricades. 5,000 tickets were made available through a lottery, and only to in-state residents. To apply for a ticket, individuals had to give up all their personal information to the Dallas Police Department and submit to a background screening by the Department of Homeland Security. This alone kept many would-be attendees away. Too many hoops to jump through; too much of an invasion into their Fourth Amendment right to privacy.
Tight security? You bet. Police officers closed off streets near Dealey Plaza, creating a gnarly traffic clusterfuck for downtown commuters. Anyone without a golden ticket or media credentials was kept away from the plaza. (Media credentialing was tightly restricted, too; only mainstream corporate media outlets were granted access by The Powers That Be.) Police and homeland security officers waded through the crowds with bomb-sniffing dogs. These bad boys meant business.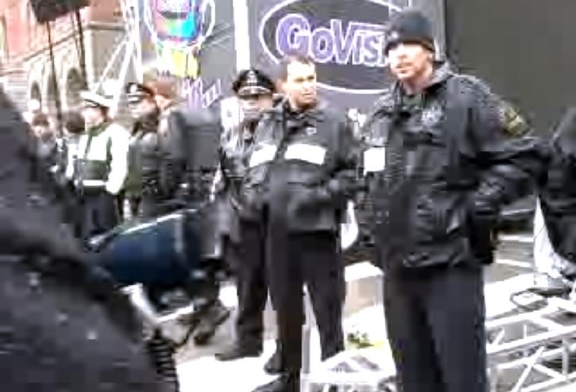 JFK 50th: Dallas police, county sheriffs, and Homeland Security officials hold the line outside Dealey Plaza.

The weather didn't exactly offer a friendly welcome to JFK tourists, either. A powerful cold front had moved in the night before, dropping temperatures from 70 degrees to the low 30s. Brutal, gusty winds came howling out of the north.
By Friday morning sleet was falling. Event organizers were expecting hundreds of people to watch the official ceremony on various jumbotron screens around downtown Dallas, but only a few dozen people braved the cold in those venues.
Like any real journalist who doesn't swallow spoon-fed gubbermint pap and regurgitate it into a story, I chose to skip attending the city's official shindig in Dealey Plaza. Credentials, schmedentials. Who wants to sit through a bunch of boring speeches and a naval glee club in the freezing rain, for cryin' out loud? I hungered to talk to the riff-raff, the locals, the out-of-towners, the popo, and of course, the conspiracy buffs.
The real action was outside Dealey Plaza. That's where I'd find the truth. Or at least, a hell of a lot more truth than I'd ever get from the mouth of a Dallas politician.

Follow TCBH's Lori Spencer into the streets of Dallas – and directly into the fracas between protesters and police – tomorrow at This Can't Be Happening!
Loading
This is the video tape of Davis in Lahore police custody


___________________________
___________________________
Live Stream of the Occupation of Wall Street! The Revolution will be filmed after all! (Courtesy of Globalrevolution)
________________________
Fightin' Cock Flyer
Listen as Chuck, John, Dave and Linn Join Prairie Radical Mike Caddell of the Fightin' Cock Flyer on Radio Free Kansas
Here's the link to prairie radio radical Mike Caddell's Radio Free Kansas program, where you can hear the podcast of the whole group interview that was conducted on Saturday, May 8.
Also, listen to Dave Lindorff on Chris Cook's Gorilla Radio on CFEV Radio in Victoria, Canada.
Donate $50 to ThisCantBeHappening.net and get a free signed copy, postage paid, of Dave's classic tome The Case for Impeachment (St. Martin's Press, 2006). Just click on the cover image to go to the Paypal payment page, make your payment, and send a note to Dave calling his attention to the payment, and giving your mail address and the name you want the inscription addressed to.
---------------
Have a comment to make?
You can write us at ThisCantBeHappeningMail@yahoo.com
We may not answer you, but we'll probably read it.