Killing the First Amendment in Dealey Plaza:
JFK Assassination 50th Anniversary and the Eyes of Texas (Pt. II)
"This is content based denial of free speech in a public park and at a designated historic site. Dealey Plaza belongs to history and to the American people, especially on the 50th anniversary."
-- John Judge, executive director of the Coalition on Political Assassinations

DALLAS -– In Part One of this series on the JFK 50th Anniversary, I covered a two-year battle between the City of Dallas and Kennedy assassination researchers/activists over a fundamental question. Who had the right to use Dealey Plaza on November 22: the people, or the elite? (The elite won that war, of course, but not without some significant losses in the court of public opinion.)
The battle was fought in the press, in the courtroom, and today it was going to be fought in the streets of Dallas.
The mutual distrust and tension between these opposing forces had come to a boil, despite what appeared on the surface to be an uneasy truce made a week before the November 22 ceremonies. The City of Dallas only gave these last-minute concessions to avoid what would have no doubt been an embarrassing and costly lawsuit threatened by the Coalition on Political Assassinations (COPA).
"Half of my members wanted to go to court, and half wanted to take the mayor's offer." said COPA executive director John Judge. Ultimately, Judge chose the most diplomatic solution, in keeping with the legacy of President Kennedy.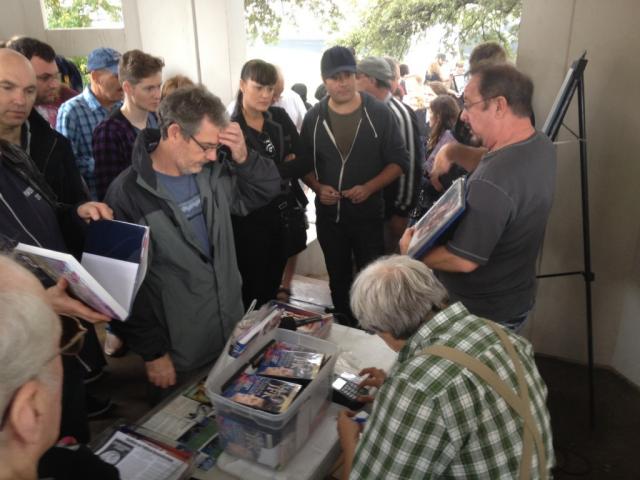 Nov. 21: Noted JFK conspiracy author and expert Robert Groden holds court in Dealey Plaza.
Even if you're not a JFK Truther; even if you honestly think that Lee Harvey Oswald was a disgruntled ex-Marine-turned-Commie with a grudge against Kennedy and an incredibly magic bullet in his old broken-down gun, you gotta wonder. What is it about the JFK conspiracy theorists that causes the establishment so much consternation, anyway? Why is the City of Dallas –- and indeed the government of these United States –- so hellbent on shutting them up? Why has the mainstream media demonized and marginalized Kennedy assassination scholars for five decades?
Who are these people, and why are they so dangerous? Let's meet some of them, shall we?
BOB GRODEN
Robert Groden is the top dog of JFK conspiracy researchers in Dallas. To some, he's a hero; to others a charlatan. To city officials and the Sixth Floor Museum honchos, he's a Really Big Pain in the Ass. In their occult secret society rituals these powerful men most likely burn his effigy and stick pins in a voodoo doll while chanting Groden's name. More than anything, they'd love to see him take a nice, long, relaxing permanent vacation in someplace like oh, Siberia, for example.
Loading
This is the video tape of Davis in Lahore police custody


___________________________
___________________________
Live Stream of the Occupation of Wall Street! The Revolution will be filmed after all! (Courtesy of Globalrevolution)
________________________
Fightin' Cock Flyer
Listen as Chuck, John, Dave and Linn Join Prairie Radical Mike Caddell of the Fightin' Cock Flyer on Radio Free Kansas
Here's the link to prairie radio radical Mike Caddell's Radio Free Kansas program, where you can hear the podcast of the whole group interview that was conducted on Saturday, May 8.
Also, listen to Dave Lindorff on Chris Cook's Gorilla Radio on CFEV Radio in Victoria, Canada.
Donate $50 to ThisCantBeHappening.net and get a free signed copy, postage paid, of Dave's classic tome The Case for Impeachment (St. Martin's Press, 2006). Just click on the cover image to go to the Paypal payment page, make your payment, and send a note to Dave calling his attention to the payment, and giving your mail address and the name you want the inscription addressed to.
---------------
Have a comment to make?
You can write us at ThisCantBeHappeningMail@yahoo.com
We may not answer you, but we'll probably read it.