Making good news out of bad
BLS 7% Jobless Rate for November is Nothing to Cheer About
The White House, and most headline writers around the country, are crowing that the November jobless rate of 7.0%, reported Friday by the Bureau of Labor Statistics, is the lowest since 2009 when President Obama took office, when it was 7.3% and rising.
But is this number really something worth cheering?
Not if you look behind it.
That 7.0% number is the BLS's so-called U3 figure, which is the percentage of the labor force currently unemployed, and it is significantly lower than the figure for November 2012, which was 7.8%. But U3, known as the "official unemployment rate," doesn't really count everyone who is unemployed. It doesn't include, for example, anyone who has even one hour a week of work, or who has not had a job for more than six months, or who in despair has given up looking.
A better number to look at, in terms of getting a true picture of the health of society and the economy, is the BLS's U6 number, which also counts as unemployed those who are "marginally attached to the labor force," meaning discouraged people who are not working and have given up looking for work, but who told BLS interviewers that they have looked within the past year and would take a job if one were available. U6 also counts as unemployed those who are currently working part-time for "economic reasons," meaning that they want full-time work but cannot find it.
The U6 measure of unemployment for November is 13.2%, and while that too is down from 14.4% in November 2012, it is historically very high. Furthermore, as the analytical website ShadowStats points out, even U6 doesn't tell the whole story. The BLS U6 figure, as ShadowStats' John Williams notes, doesn't count long-term discouraged workers -- people who have given up trying to find work because they cannot find a job. This group was "defined out of existence" by the BLS during the Clinton presidency in 1994. You can understand why that was done: adding these people to the total gives a current unemployment rate of a whopping 23% -- a number that, unlike the U3 and even U6, has been continuing to rise since the start of the so-called Great Recession in late 2008, even through the last four years of "economic recovery."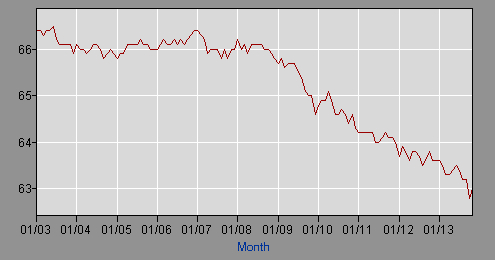 As this ShadowStats graph demonstrates, the crucial labor participation rate has been falling since at least 2003 (click on image to go to ShadowStats.com)
Loading
This is the video tape of Davis in Lahore police custody


___________________________
___________________________
Live Stream of the Occupation of Wall Street! The Revolution will be filmed after all! (Courtesy of Globalrevolution)
________________________
Fightin' Cock Flyer
Listen as Chuck, John, Dave and Linn Join Prairie Radical Mike Caddell of the Fightin' Cock Flyer on Radio Free Kansas
Here's the link to prairie radio radical Mike Caddell's Radio Free Kansas program, where you can hear the podcast of the whole group interview that was conducted on Saturday, May 8.
Also, listen to Dave Lindorff on Chris Cook's Gorilla Radio on CFEV Radio in Victoria, Canada.
Donate $50 to ThisCantBeHappening.net and get a free signed copy, postage paid, of Dave's classic tome The Case for Impeachment (St. Martin's Press, 2006). Just click on the cover image to go to the Paypal payment page, make your payment, and send a note to Dave calling his attention to the payment, and giving your mail address and the name you want the inscription addressed to.
---------------
Have a comment to make?
You can write us at ThisCantBeHappeningMail@yahoo.com
We may not answer you, but we'll probably read it.