Historic opportunity missed:
Obama Failed To Deliver Long-Overdue Apology To Mandela
When Barack Obama, the first black president of America, delivered remarks Tuesday during a South African memorial service for that country's first black president, he muffed a historic opportunity to right a grave wrong done by the American government – one that helped send Nelson Mandela to prison for nearly 30-years.
Obama, during his remarks at a Johannesburg, SA memorial service for Mandela, who died on December 5 at age 95, recalled how that world-revered leader had endured "brutal imprisonment."
But the U.S. president conveniently excluded the fact that America's CIA had helped South African agents capture Mandela, leading to the very imprisonment that Obama and other world leaders were decrying during that service.
A few miles from the soccer stadium where that memorial service for Mandela was held is the house in Soweto where Mandela lived before he went underground in the early 1960s to ramp up the fight in his homeland against apartheid – that racist system modeled on U.S. segregation laws.
That small four-room house on Vilakazi Street in Soweto's Orlando West section is now a museum commemorating the life and sacrifices of the man credited universally hailed as the 'Father' of modern South Africa.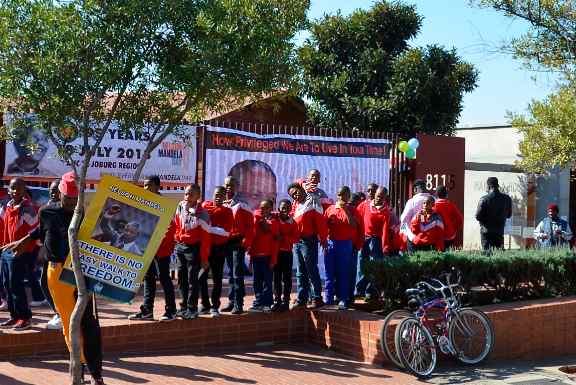 Schoolchildren visit Mandela House Museum in Soweto, where the South African leader lived before going underground (Linn Washington photo)
Included among the abundant memorabilia inside that museum is a June 1990 letter sent to then U.S. President George H.W. Bush Sr. by some state legislators in Michigan asking Bush to apologize to Mandela for the U.S. CIA's role in helping South African government agents capture Mandela in August 1962, leading to his long imprisonment. Mandela was finally been released from prison in February of 1990.
Bush Sr., a former CIA Director, brushed aside that request. His cold-shouldered non-response to that request continued the stance among legions of American governmental and corporate leaders who aided-&- and abetted South African apartheid right up to the negotiated end of white supremacist rule and the 1994 election of Mandela. The U.S. government had backed South Africa's white minority government economically, militarily and diplomatically for decades.
Obama, during his eloquent memorial remarks, could have apologized specifically for that CIA role in Mandela's arrest or he could have at least acknowledged America's decades-long stance on the wrong side of the anti-apartheid struggle. Instead, he took a pass, even at the point when he urged persons who attended that memorial to "act on behalf of justice."
Loading
This is the video tape of Davis in Lahore police custody


___________________________
___________________________
Live Stream of the Occupation of Wall Street! The Revolution will be filmed after all! (Courtesy of Globalrevolution)
________________________
Fightin' Cock Flyer
Listen as Chuck, John, Dave and Linn Join Prairie Radical Mike Caddell of the Fightin' Cock Flyer on Radio Free Kansas
Here's the link to prairie radio radical Mike Caddell's Radio Free Kansas program, where you can hear the podcast of the whole group interview that was conducted on Saturday, May 8.
Also, listen to Dave Lindorff on Chris Cook's Gorilla Radio on CFEV Radio in Victoria, Canada.
Donate $50 to ThisCantBeHappening.net and get a free signed copy, postage paid, of Dave's classic tome The Case for Impeachment (St. Martin's Press, 2006). Just click on the cover image to go to the Paypal payment page, make your payment, and send a note to Dave calling his attention to the payment, and giving your mail address and the name you want the inscription addressed to.
---------------
Have a comment to make?
You can write us at ThisCantBeHappeningMail@yahoo.com
We may not answer you, but we'll probably read it.