Vote trashes 'rule of law'
Senate Majority Uses Abu-Jamal to 'Tar' Obama Nominee
Members of the U.S. Senate, who now of late are blasting Russia for violating "the rule of law' in the Ukraine, trashed that same fundamental legal precept during a vote to reject the man President Obama recently nominated to head the Civil Rights Division of the U.S. Justice Department.
Senate Republicans, with the support of a handful of Democrats, including Pennsylvania's two Senators, rejected the nomination of Debo Adegbile, followed a venomous, falsehood-filled campaign against him launched by the National Fraternal Order of Police and exploited by conservative opponents of Obama (see the article below by my colleague Dave Lindorff).
The flashpoint Adegbile opponents used to frame their opposition to him was this highly qualified lawyer's indirect and very remote involvement in appeals filed on behalf of Mumia Abu-Jamal, the Philadelphia journalist who was convicted for the 1981 slaying of a Philadelphia policeman. Abu-Jamal's contentious conviction has been condemned by entities as diverse as Nelson Mandela,, the U.S. Congressional Black Caucus and Amnesty International, a widely admired legal organization that produced a lengthy analysis back in 2000 declaring his trial and appeals process "deeply flawed" and saying it "clearly failed to meet the minimum international standards safeguarding the fairness of legal proceedings."
Adegbile worked for the NAACP Legal Defense and Educational Fund, an organization that officially entered the Abu-Jamal case in January 2011, more than nine years after a federal district declared Abu-Jamal's controversial death sentence unconstitutional. That federal court action, upheld by a federal appeals court panel and ultimately by the U.S. Supreme Court, led to Abu-Jamal's sentence being automatically converted to life in prison much, to the chagrin of police unions in Philadelphia and beyond, who had for years been campaigning for the former Black Panther Party member's execution. Adegbile, a voting rights law expert for the LDF, was not the lead (or even backup) LDF lawyer on the Abu-Jamal case.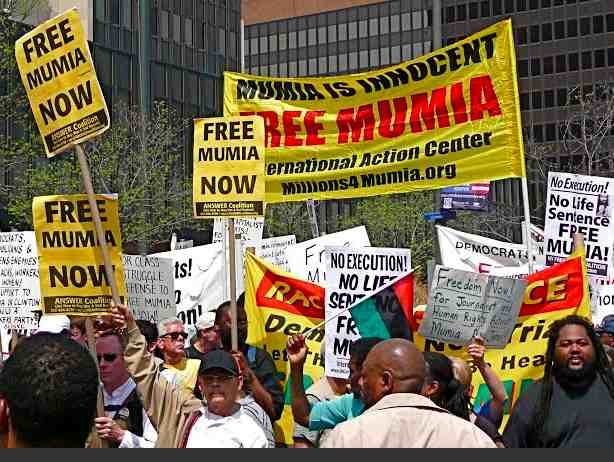 Protest outside federal courthouse in downtown Philadelphia demanding the release of Mumia Abu-Jamal, who is widely considered a 'political prisoner' in America (Linn Washington photo)
Loading
This is the video tape of Davis in Lahore police custody


___________________________
___________________________
Live Stream of the Occupation of Wall Street! The Revolution will be filmed after all! (Courtesy of Globalrevolution)
________________________
Fightin' Cock Flyer
Listen as Chuck, John, Dave and Linn Join Prairie Radical Mike Caddell of the Fightin' Cock Flyer on Radio Free Kansas
Here's the link to prairie radio radical Mike Caddell's Radio Free Kansas program, where you can hear the podcast of the whole group interview that was conducted on Saturday, May 8.
Also, listen to Dave Lindorff on Chris Cook's Gorilla Radio on CFEV Radio in Victoria, Canada.
Donate $50 to ThisCantBeHappening.net and get a free signed copy, postage paid, of Dave's classic tome The Case for Impeachment (St. Martin's Press, 2006). Just click on the cover image to go to the Paypal payment page, make your payment, and send a note to Dave calling his attention to the payment, and giving your mail address and the name you want the inscription addressed to.
---------------
Have a comment to make?
You can write us at ThisCantBeHappeningMail@yahoo.com
We may not answer you, but we'll probably read it.