Humanity Versus a Corrupt State
Coups and Cash Machines in Rio de Janeiro

    One way to win the game is by making up at least part of the rules, something the rich do.
                    -From "Winning the Game" by Rubem Fonseca


RIO DE JANEIRO, BRAZIL — The sun was going down and the wide boulevard Rua Rio Branco was jam-full of screaming humanity backed up with banging drums and all sorts of waving signs and banners. It was a large unruly demonstration on the 1st of April recognizing the 50 year anniversary of the 1964 coup that led to over 20 years of brutal military rule in Brazil. The anniversary has been discussed in newspapers and in various forums in Rio leading up to this date.
Remembering the coup has become all wrapped up with the controversy over urban renewal efforts and costly construction projects associated with the June World Cup matches and the 2016 Olympics. Many in Brazil would prefer resources be used to improve education, medical care, transportation and other infrastructure areas. It's an eternal political struggle, especially in a place like Brazil, between the top and the bottom of society.
A writer colleague and I are in Rio focusing on this historical moment and what it might mean for the future of Brazil. The military government of the coup years featured all the usual incidents of beatings, tortures, disappearances and murders. The only thing that can be said of the Brazilian dictatorial period is that it was not as severe or as rotten as the one in neighboring Argentina, where they famously cleansed themselves of left-leaning individuals by kicking their naked, dead bodies like garbage out of planes over the Atlantic.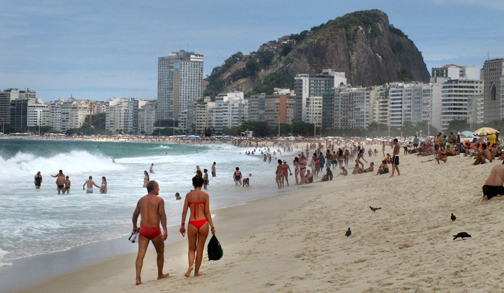 The usual image of Rio de Janeiro, the famous Copacabana Beach
In the case of the Brazilian military dictatorship, after 20 years of governing it decided in the 1980s that it was tired of running things from out front and was ready to install a democratic government. Naturally, before it did that it self-established all sorts of amnesty programs for its generals and the torturers and killers who did their bidding. Those amnesties are now controversial, and young people have taken up painting signs on walls announcing that a torturer lives here. Sort of like identifying child molesters in US communities.
Loading
This is the video tape of Davis in Lahore police custody


___________________________
___________________________
Live Stream of the Occupation of Wall Street! The Revolution will be filmed after all! (Courtesy of Globalrevolution)
________________________
Fightin' Cock Flyer
Listen as Chuck, John, Dave and Linn Join Prairie Radical Mike Caddell of the Fightin' Cock Flyer on Radio Free Kansas
Here's the link to prairie radio radical Mike Caddell's Radio Free Kansas program, where you can hear the podcast of the whole group interview that was conducted on Saturday, May 8.
Also, listen to Dave Lindorff on Chris Cook's Gorilla Radio on CFEV Radio in Victoria, Canada.
Donate $50 to ThisCantBeHappening.net and get a free signed copy, postage paid, of Dave's classic tome The Case for Impeachment (St. Martin's Press, 2006). Just click on the cover image to go to the Paypal payment page, make your payment, and send a note to Dave calling his attention to the payment, and giving your mail address and the name you want the inscription addressed to.
---------------
Have a comment to make?
You can write us at ThisCantBeHappeningMail@yahoo.com
We may not answer you, but we'll probably read it.