ThisCantBeHappening! radio interview of Prof. Harold Wanless on PRN.fm:
Climate Change is Much Worse than Even the IPCC Predictions
Dave Lindorff, host of the Progressive Radio Network program "ThisCantBeHappening!", interviews Professor Harold Wanless, chair of the Geology Department at the University of Miami and a leading climate change expert. Wanless talks about the latest Intergovernmental Panel on Climate Change (IPCC) report, explaining that as scary as that organization's latest predictions are concerning accelerating global warming, it is far too conservative.
This is because the IPCC does not factor in the feedback loops that are making things get worse faster — whether it's the doubling of the pace of Greenland and Western Antarctic ice melt every seven years, or the future release of massive methane deposits locked in Arctic permafrost and undersea methyl cathrate deposits--a process that is already beginning.
If we don't act quickly to significantly reduce the use of carbon fuels, Wanless warns, we could see a "baked in" 70-foot sea rise, perhaps in our children's or grandchildren's lifetimes, and even with a less apocalyptic sea rise, an end to human civilization--and that's just with the amount of carbon that we humans have already put in the atmosphere.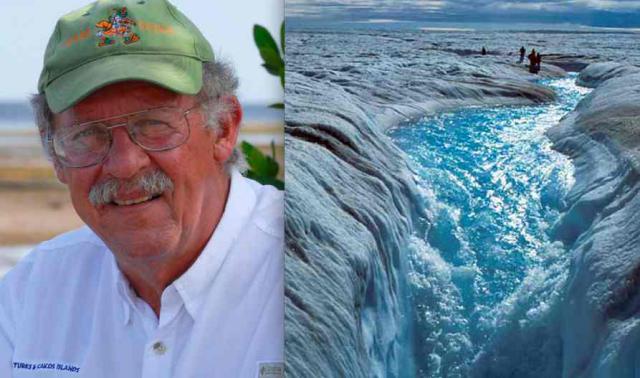 Miami University's Prof. Harold Wanless, and a view of Greenland's ice melt, showing how dirty the surface of that huge ice sheet has become from global pollution. Click on the photo to hear the podcast of this interview on PRN.fm
Loading
This is the video tape of Davis in Lahore police custody


___________________________
___________________________
Live Stream of the Occupation of Wall Street! The Revolution will be filmed after all! (Courtesy of Globalrevolution)
________________________
Fightin' Cock Flyer
Listen as Chuck, John, Dave and Linn Join Prairie Radical Mike Caddell of the Fightin' Cock Flyer on Radio Free Kansas
Here's the link to prairie radio radical Mike Caddell's Radio Free Kansas program, where you can hear the podcast of the whole group interview that was conducted on Saturday, May 8.
Also, listen to Dave Lindorff on Chris Cook's Gorilla Radio on CFEV Radio in Victoria, Canada.
Donate $50 to ThisCantBeHappening.net and get a free signed copy, postage paid, of Dave's classic tome The Case for Impeachment (St. Martin's Press, 2006). Just click on the cover image to go to the Paypal payment page, make your payment, and send a note to Dave calling his attention to the payment, and giving your mail address and the name you want the inscription addressed to.
---------------
Have a comment to make?
You can write us at ThisCantBeHappeningMail@yahoo.com
We may not answer you, but we'll probably read it.