Legalize It
NJ Gov Christie Castigated for Roadblocks on Cannabis
The spirited protest outside the front door of the New Jersey Statehouse in Trenton, where nearly 150 demonstrators bashed NJ Governor Chris Christie for scandalous obstruction of the state's medical marijuana law, featured the presence and participation of the youngest offspring of two of the most legendary stars in reggae music history.
That 4/20 demonstration against Christie's restrictive implementation of NJ's medical marijuana law and against the governor's opposition to legalization or even decriminalization of marijuana, included remarks by Makeda Marley, the youngest daughter of reggae legend Bob Marley and by Jawara McIntosh, youngest son of reggae luminary Peter Tosh.
Marley and Tosh, members of the immortal 'Wailers' reggae band, were both vocal advocates for marijuana. Both men integrated their support for marijuana into their song lyrics, as in Tosh's 1976 hit, "Legalize it!' Marley and Tosh practiced the Rastafarian religion, which embraces the spiritual use of marijuana.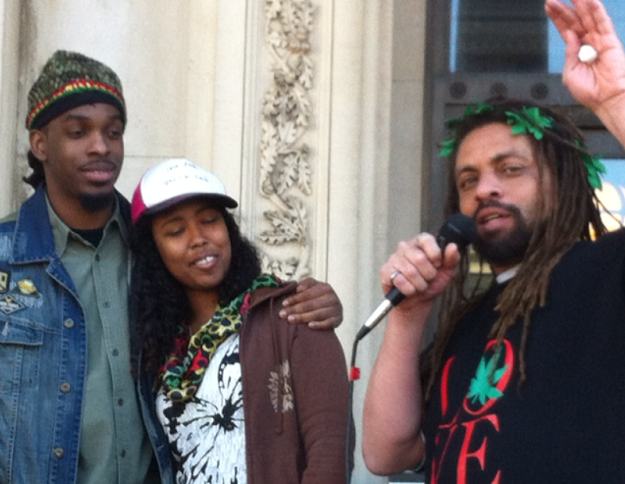 Jawara McIntosh, Makeda Marley and Ed 'NJ Weedman' Forchion, at a 4/20 marijuana legalization protest in Trenton, NJ (photo by Washington)

"It's time to stop the hypocrisy," Jawara McIntosh said after singing a few verses of his father's still popular "Legalize It."
"It's Ok to smoke cigarettes that can kill you but you can't smoke marijuana that can heal your body and spirit," McIntosh said, adding, "Keep speaking word to power. My father was a great believer in the power of the word."
Advancing a similar political engagement theme, Makeda Marley urged the multi-racial, inter-generational demonstrators to do more to hold governments accountable.
"It's time to fight for our rights," Marley said.
A recent poll conducted by Quinnipiac University found 48 percent support for marijuana legalization among New Jersey voters, with legalization support reaching 56 percent among voters aged 18-29. Forty-one percent of the participants in that poll admitted to having smoked marijuana. "Like my father said, "Get Up Stand Up" for your rights."
Flamboyant anti-pot prohibition activist Ed Forchion, better known as NJ Weedman, organized the Sunday 4/20 protest in NJ's capital city. Forchion reminded the protestors of the history-making presence of Marley and McIntosh.
Typical of 4/20 protests, at 4:20pm Forchion led many of the protestors in a 'smoke out' of marijuana, albeit smoking the illegal substance a short distance from the Statehouse. Forchion purposely moved the protestors off state property as not to defy the state troopers monitoring the main Statehouse protest site.
And typical of Forchion's flair for tactical theatrics, the Easter Sunday protest included a season-specific prop: a cross constructed of fencing posts festooned with a giant marijuana leaf. Forchion and other protestors took turns carrying that cross during a march from Trenton's train station to the Statehouse that included a stop in front of the federal courthouse.
Loading
This is the video tape of Davis in Lahore police custody


___________________________
___________________________
Live Stream of the Occupation of Wall Street! The Revolution will be filmed after all! (Courtesy of Globalrevolution)
________________________
Fightin' Cock Flyer
Listen as Chuck, John, Dave and Linn Join Prairie Radical Mike Caddell of the Fightin' Cock Flyer on Radio Free Kansas
Here's the link to prairie radio radical Mike Caddell's Radio Free Kansas program, where you can hear the podcast of the whole group interview that was conducted on Saturday, May 8.
Also, listen to Dave Lindorff on Chris Cook's Gorilla Radio on CFEV Radio in Victoria, Canada.
Donate $50 to ThisCantBeHappening.net and get a free signed copy, postage paid, of Dave's classic tome The Case for Impeachment (St. Martin's Press, 2006). Just click on the cover image to go to the Paypal payment page, make your payment, and send a note to Dave calling his attention to the payment, and giving your mail address and the name you want the inscription addressed to.
---------------
Have a comment to make?
You can write us at ThisCantBeHappeningMail@yahoo.com
We may not answer you, but we'll probably read it.