A Review/Essay
LOSING TIM: A Mother Unravels Her Military Son's Suicide

I met Janet Burroway when I was a Vietnam veteran on the GI Bill at Florida State University and I signed up for a creative writing workshop she was just hired to teach. She was a worldly, published novelist seven years older than me. She had just left an oppressive husband, a Belgian, who was an important theater director in London where she'd been to parties with the likes of Samuel Beckett. I graduate in 1973, and in a turn of events that still amazes me, I asked her out and ended up living with her for a couple years. She had two beautiful boys, Tim, 9, and Toby, 6, who I grew to love.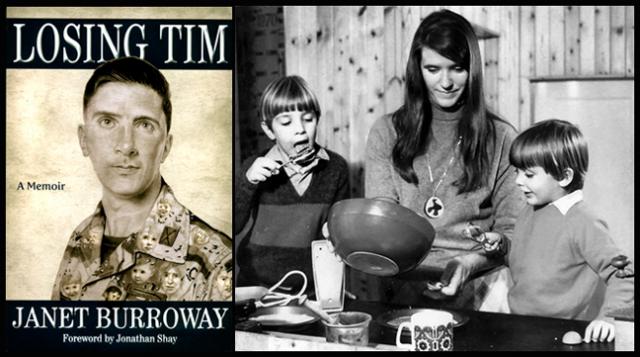 The cover of Losing Tim; and Tim, Janet Burroway and Toby in England circa 1971
Cut to 2004. Even as a kid, Tim had a hard-headed moral code about what was right and wrong. As he grew into manhood, he became enamored of all things military; he loved guns. He had a career in the Army as a Ranger, where all his evaluations suggest a stellar soldier. He reached captain, but a promise to his wife and other reasons led him to resign his commission in the active Army. He worked in the Army reserves for a while in places like Bosnia. Contacts led him to civilian jobs in the military contractor world in Africa and Iraq, where he ended up running de-mining operations and training de-miners for RONCO Consulting Corporation.
By Spring 2004, he decided to resign from RONCO. He visited his mother in Tallahassee, then flew to Namibia, northwest of South Africa, to be with his wife Birgett, a white Namibian he'd met during an assignment in Africa where she worked for the UN. Birgett had an adolescent son from a previous relationship. They had a one-year old daughter.
The details are not absolutely clear. Tim was certainly disillusioned from his experiences in Iraq and was apparently sinking into depression. For reasons only he could know, one afternoon he put a nine-millimeter pistol to his head and, in front of Birgett, shot himself dead at age 39.
What is one to make of an act like this? What is a mother to make of the death of her son in this way -- especially a mother who throughout her son's military and contractor career was politically at odds with her son and against the war in Iraq? If that mother is a respected novelist with a talent for spare, honest prose, the answer is a memoir like Losing Tim, just published by Think Piece Press.
For a flavor of the writing in Losing Tim, here's Burroway on the political tension between her and Tim and how it matured her as a mother:
"Here's the irony: that nothing led me toward eventual adulthood quite so insistently as the passive endurance of my disappointment -- that I had borne, and must adore, a golden right-wing gun-toting soldier son."
Loading
This is the video tape of Davis in Lahore police custody


___________________________
___________________________
Live Stream of the Occupation of Wall Street! The Revolution will be filmed after all! (Courtesy of Globalrevolution)
________________________
Fightin' Cock Flyer
Listen as Chuck, John, Dave and Linn Join Prairie Radical Mike Caddell of the Fightin' Cock Flyer on Radio Free Kansas
Here's the link to prairie radio radical Mike Caddell's Radio Free Kansas program, where you can hear the podcast of the whole group interview that was conducted on Saturday, May 8.
Also, listen to Dave Lindorff on Chris Cook's Gorilla Radio on CFEV Radio in Victoria, Canada.
Donate $50 to ThisCantBeHappening.net and get a free signed copy, postage paid, of Dave's classic tome The Case for Impeachment (St. Martin's Press, 2006). Just click on the cover image to go to the Paypal payment page, make your payment, and send a note to Dave calling his attention to the payment, and giving your mail address and the name you want the inscription addressed to.
---------------
Have a comment to make?
You can write us at ThisCantBeHappeningMail@yahoo.com
We may not answer you, but we'll probably read it.