A Review/Essay
LOSING TIM: A Mother Unravels Her Military Son's Suicide
Burroway has published eight novels, as well as plays, essays, poetry, creative writing textbooks and children's books. Her latest novel Bridge of Sand was published in 2009 by Houghton Mifflin Harcourt. Her novel Raw Silk was just re-issued by Open Road. She's now at work on a musical adaptation of Barry Unsworth's novel Morality Play set in medieval Europe and a play about her son Tim. She is the Robert O. Lawton Distinguished Professor Emerita at Florida State University and won the 2014 Lifetime Achievement Award in Writing from the Florida Humanities Council.
Although I've not seen any of the Burroway family for 38 years, Tim Eysselinck's story is personally heart-breaking for me. Like his mother's inclination in Losing Tim, I can't divorce his death from the corrupt politics of war in America. I've been immersed in the business of soldiers and veterans and post traumatic stress and anti-war politics for the past 35 years. Coincidentally, in December 2003 -- the point Tim's disillusion was growing -- I was in Baghdad with a group of antiwar veterans and military family members on a two-week fact-finding trip. We were told by Paul Bremer's assistant that family members visiting their sons and daughters in a US war zone was unprecedented.
When we got home, I was part of a three-hour press conference on C-SPAN at the Washington Press Club. We talked about how and why the invasion/occupation was a debacle, how a home grown insurgency was on the rise motivated by defense against our troops and how our leadership had betrayed the American people and had handed the nation a dishonest quagmire war.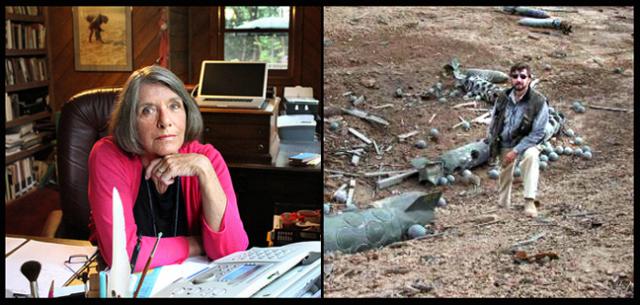 Janet Burroway in her writing office and Tim Eysselinck with war detritus in Iraq
That was the detached observations of a drop-in journalist. For Tim, it was his whole life. People were beginning to shoot at his team. There were roadside bombs. He mentioned to friends witnessing a disturbing, cavalier attitude toward civilian casualties. During his visit to Tallahassee, Burroway writes, "...he was disillusioned with the Bush administration and the Paul Bremer regime. ... He seethed: the corruption, the incompetence, the lies, the greed, the stupidity!" (Italics in original) At one point he says, "I'm ashamed of being an American." He later says to his wife, "I'm tired of being the bad man."
Burroway quotes David Hume: "Suicide is a permanent solution to a temporary problem."
In a disgraceful hearing over post-suicide benefits for Tim's family, RONCO attorneys argued that Tim didn't suffer from Post Traumatic Stress. The corporate lawyers diminished their dead employee in any way they could to avoid paying money. They suggesting the de-mining work in Iraq was not dangerous and that Tim had never experienced combat or seen anything unpleasant. The Houston judge laid down for RONCO.
Loading
This is the video tape of Davis in Lahore police custody


___________________________
___________________________
Live Stream of the Occupation of Wall Street! The Revolution will be filmed after all! (Courtesy of Globalrevolution)
________________________
Fightin' Cock Flyer
Listen as Chuck, John, Dave and Linn Join Prairie Radical Mike Caddell of the Fightin' Cock Flyer on Radio Free Kansas
Here's the link to prairie radio radical Mike Caddell's Radio Free Kansas program, where you can hear the podcast of the whole group interview that was conducted on Saturday, May 8.
Also, listen to Dave Lindorff on Chris Cook's Gorilla Radio on CFEV Radio in Victoria, Canada.
Donate $50 to ThisCantBeHappening.net and get a free signed copy, postage paid, of Dave's classic tome The Case for Impeachment (St. Martin's Press, 2006). Just click on the cover image to go to the Paypal payment page, make your payment, and send a note to Dave calling his attention to the payment, and giving your mail address and the name you want the inscription addressed to.
---------------
Have a comment to make?
You can write us at ThisCantBeHappeningMail@yahoo.com
We may not answer you, but we'll probably read it.