The Case of the Dead Brazilian Torturer Gets Murkier
This story about Malhaes as a commander of vigilantes until he was too sick and infirm to continue, as the reporter for O Globo put it, has been subsequently dismissed as untrue by a lead investigator on the Malhaes break-in, although the journalist who elicited this comment did not report how the cop came to draw this conclusion. The Malhaes' case is in the hands of a homicide division of the Civil Police that exercises jurisdiction in the Fluminense Lowlands, a county-sized subdivision within the state of Rio de Janeiro, and in which the eponymous capital and nearby Nova Iguacu are both located.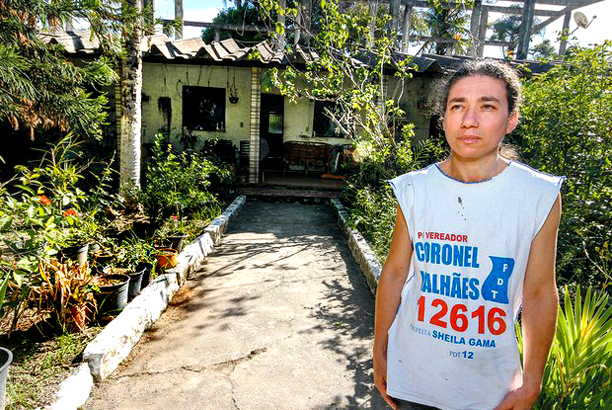 Cristina Batista Malhaes wearing a t-shirt for her dead husband's campaign for public office

Malhaes had occupied the rural home in which he was found dead for thirty years. The location of the property is described as "solitary," accessible only from a dirt road. For the past nine years Malhaes had lived there with his third wife, Cristina Batista. His three marriages have produced five children, several of whom reside in the vicinity of their late father's house. In 2000 Malhaes ran for a seat on the Nova Iguacu city council and was defeated. Last month, after making public what Agence France Presse described as his "sickening catalogue of crimes," Malhaes, suddenly a household name throughout Brazil, was said to have no fear for his own security. Malhaes believed that his reputation as a local tough guy around Nova Iguacu would protect him.
I hope to discover more unsavory details on the life that Paulo Malhaes' lived as an alleged vigilante chieftain during at least some of his thirty years in Nova Iguacu. But the only additional information about him I can present here comes from reports of the crime scene where the police found his body last Friday morning, and from the subsequent and on-going investigation of that event.
To recap what I have previously reported, Malhaes, his wife, Cristina, and a handyman in their employ, now identified as Rogerio Pires, had been out and returned home last Thursday, April 24th, around two in the afternoon. Three intruders awaited them, one of whom wore a hood. Though I have not seen it reported, we must assume that they were armed. Malhaes was taken by two of the men to his office, while his two companions, escorted by the hooded man, were bound and sequestered in the master bedroom.
Loading
This is the video tape of Davis in Lahore police custody


___________________________
___________________________
Live Stream of the Occupation of Wall Street! The Revolution will be filmed after all! (Courtesy of Globalrevolution)
________________________
Fightin' Cock Flyer
Listen as Chuck, John, Dave and Linn Join Prairie Radical Mike Caddell of the Fightin' Cock Flyer on Radio Free Kansas
Here's the link to prairie radio radical Mike Caddell's Radio Free Kansas program, where you can hear the podcast of the whole group interview that was conducted on Saturday, May 8.
Also, listen to Dave Lindorff on Chris Cook's Gorilla Radio on CFEV Radio in Victoria, Canada.
Donate $50 to ThisCantBeHappening.net and get a free signed copy, postage paid, of Dave's classic tome The Case for Impeachment (St. Martin's Press, 2006). Just click on the cover image to go to the Paypal payment page, make your payment, and send a note to Dave calling his attention to the payment, and giving your mail address and the name you want the inscription addressed to.
---------------
Have a comment to make?
You can write us at ThisCantBeHappeningMail@yahoo.com
We may not answer you, but we'll probably read it.